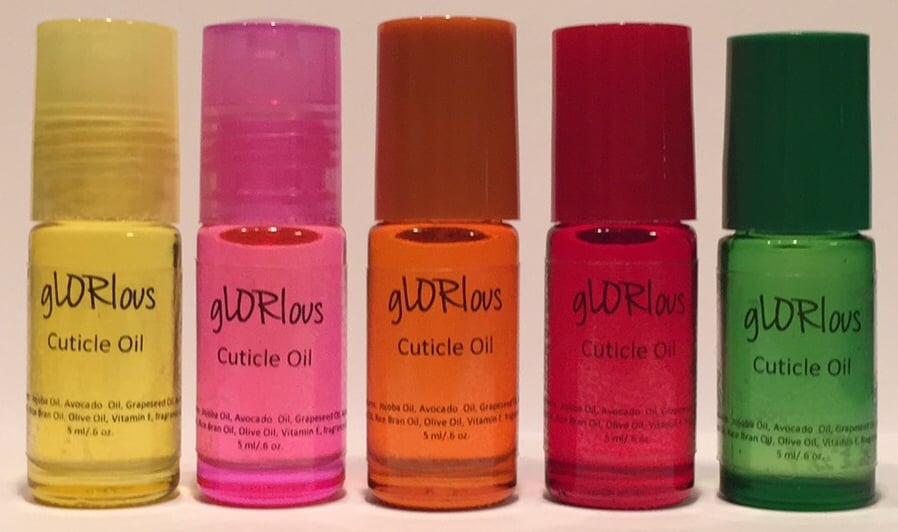 5 ml. (mini) roll-on cuticle oil. Our cuticle oil contains a blend of nourishing ingredients to strengthen and moisturize nails and cuticles. Apply several times a day for maximum results.
Mini (5 ml.) bottles allow you to try more scents at an economical price, and they are the perfect size to carry in your purse!
Available in a wide variety of scents. A complete list of available scents with descriptions can be found by clicking "Pages" at the top of the page, and then click on the link for "Cuticle Oil Scents". Please indicate in the notes of your order which scent you would like. We may add new scents when they become available or discontinue scents as they sell out.
Available in 6 bottle colors: Yellow, Pink, Orange, Red, Green and Frosted Dark Blue (not shown). If you want a specific color bottle, please note the color in the notes section of your order, or allow us to choose a color for you.
Ingredients: Avocado, Jojoba, Apricot Kernel, Rice Bran, Olive and Grapeseed Oils; fragrance oil.
For external use only. Please check ingredients for potential allergies. Always perform a skin test for sensitivity when using any new product.